Preparing to Work from Home (And Staying Productive)
A message from Advantage Services: We're working with our hosting partners to ensure that the option to be safe and work from home is accessible to everyone - as such, we've organised a reduced cost for hosting for companies new to hosting and a short-term contract to make this viable for responsible businesses looking to protect staff and customers during this period.
Should you need any help with this, our team are working remotely and are accessible as always. Please get in touch, we can help.
What you need
to work from home
To work from home employers and employees will need to ensure that the right devices, software and needs can be met from a home environment. Understandably, home-working is not feasible for everyone, but people who are office-based should have no issue working from home if everything is set up properly.
Employers should ensure that staff have access to a computer or laptop with internet access, methods of communication, whether that's a phone or a free (or paid) instant messaging service, and any other essential software for their own devices - for many of our customers that will be Sage 50cloud or similar Sage packages, although it may extend to CRM systems or further accounts software. We want to ensure the safety of our customers and ensure that those working in accounts and finance departments are still able to work and get paid (and pay the rest of the team) as usual at this difficult time.
As many of you will be aware, these are not cloud systems, although the name may say so. Advantage Services can help you get your systems online so that you can access them from wherever you may be working. Our secure server will keep data safe and our specialist support team can help you get everything up and running in no time.
Creating a good work environment
It goes without saying that if you can make your working space a nice place to be then you should. After all, you might be spending most of your day there, so it might be worth setting it up a bit like your usual desk if you can.
We have a few tips for those working from home that may not have done it before that can help you make the most of the situation.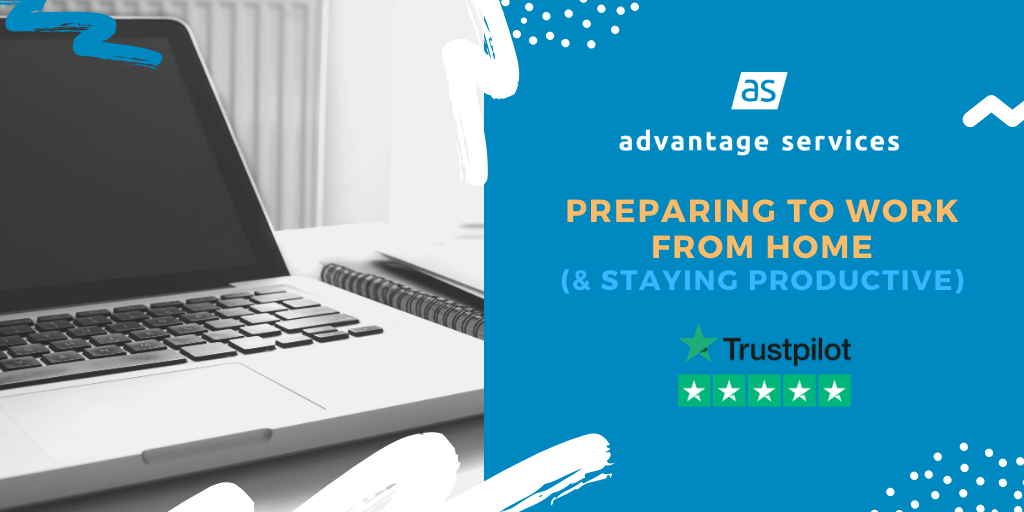 - Declutter your desk, table or wherever you may be. Keeping a clear space will help you prioritise your work and focus while you're there.
- Try not to set up your space in a place that's distracting. This may as simple as setting up on your table facing away from the tv or even setting up an area in a quiet room of the house.
It can be easy for distractions to take over when you're working from home, whether it's in the form of kids, TV or just about anything else you could be doing, but it's really important to make sure that your environment and mindset put you in the best position to thrive at home.
Staying productive
- Make a list. Whether it's to-do's you need to get through before your next tea break or a more structured schedule, it's about getting through your tasks in a way that suits you and how you work. You might even find that you get through things faster.
- Get distractions out of the way before you start working. If you know there's something that's going to be in the back of your mind all day, it may just be best to get it done and out of the way first thing. Start your working day with a clean slate and maximum focus.
- Take a break. When you're working from home, it can be easy to fall into a routine for work and forget to take a break. Get up and go for a quick walk, talk to other people in the house and make sure they're okay, or simply have some time away from your screen.
- Save your work and back things up regularly. Just because you're at home, it doesn't mean that things don't sometimes go wrong but you might not have your IT team on hand to help out. You can work in online spaces that can auto-save, back your work up to the cloud or simply save your work at regular intervals. If there are any cases of data corruption on your Sage package, speak to our team and we'll be able to help.
Again, our best wishes to all of our customers, friends and colleagues and their families. If you need anything, as always, we are here to help where we can.